Parris Landing
42 Eighth Street, Charlestown MA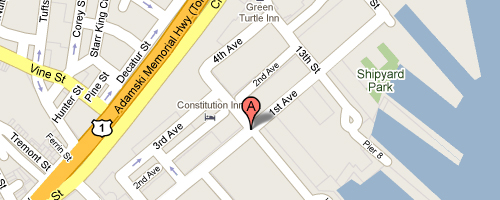 Located in the Charlestown Navy Yard in Boston Harbor, Parris Landing is a luxury condominium and apartment complex made up of five separate buildings. Each of these buildings was part of a nautical machine shop, lending a historic taste to the community. Parris Landing was fully remodeled and modernized in 2007 to provide for some of the most affordable, luxurious living in the greater Boston area. Residents of the complex enjoy upscale amenities and the convenience of living in one of Boston's most storied neighborhoods.
Parris Landing boasts more than 300 condos and rental units and includes studios, one-bedroom and two-bedroom floor plans. Thanks to the size of the community, a wide variety of floor plans are available. Units ideal for single professionals, seasoned professionals and families are all available within the community. Professionally landscaped grounds add to the charm of Parris Landing. During the summer, residents can even enjoy relaxing in the community's in-ground pool.
Redesigned to provide the best in luxury and modern amenities to residents, Parris Landing boasts a wide variety of conveniences. The community's amenities include:
•24-hour concierge services.
•A modern fitness facility.
•A state-of-the-art business center.
•Outdoor courtyards.
•An outdoor pool.
•A secured garage with one deeded space per residence.
•Valet parking services.
•Elevators.
•Sundecks.
•Gorgeous city and water views.
•Access to two nearby, full-service marinas.
•Convenient access to water taxis and public transit.

Of course, Parris Landing is popular among residents for more than just its community-wide amenities. Each unit also features a wealth of benefits and design features to provide for the comfort and quality of life of residents. Individual residences include:
•Hardwood floors.
•Modernized kitchens and bathrooms.
•Balconies.
•In-unit laundry facilities.
•Air conditioning.
•Carpeted floors in some areas.
•Granite countertops.
•Microwaves and dishwashers.
•Stainless steel appliances.
•Large windows.
•Private roof decks in some units.

One of the chief attractions of Parris Landing is the community in which it is located. Charlestown's Navy Yard is one of the most popular areas in Boston. The neighborhood boasts a wealth of historic attractions, restaurants, shops and entertainment venues. Those residents who enjoy taking leisurely strolls along the water can enjoy the nearby Boston Harborwalk. Two full-service marinas also provide for the needs of sailing and boating enthusiasts.
History buffs will enjoy visiting Revolutionary War landmarks along the Freedom Trail, which is located just minutes from Parris Landing. The USS Constitution is also located in this area. These historic sites host special and seasonal events that may be of interest to community residents. Of course, convenient access to the greater Boston area is also a chief selling point of Parris Landing.
Nearby cafes, restaurants and shops ensure that residents will never be left hungry or bored. Some of the area's best restaurants are located in the neighborhood, making it especially ideal for those who enjoy entertaining or hosting out-of-town guests. The Navy Yard is known for hosting many community-centric events, allowing residents to connect with one another and with others who live in the immediate area. As a luxury apartment and condo complex, Parris Landing attracts some of the best and brightest minds in Boston, making it a thrilling living environment for individuals of all ages.
Amenities
...
Rental Information
Studios start around $1,500
One bedrooms start around $1,800
Two bedrooms start around $2,500